SEO - Become An SEO Expert With Yoast SEO Plugin
SEO Your Own Business - Avoid Hours Of SEO Work With Yoast Plugin Step-by-Step Tutorials - SEO Sales Forms Too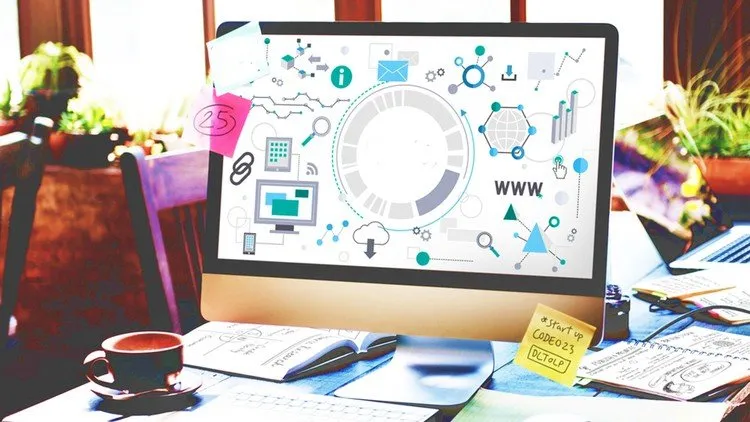 SEO - Become An SEO Expert With Yoast SEO Plugin
SEO - Become An SEO Expert With Yoast SEO Plugin udemy course
SEO Your Own Business - Avoid Hours Of SEO Work With Yoast Plugin Step-by-Step Tutorials - SEO Sales Forms Too
What you'll learn:
Case study on SEO included so you learn by looking over my shoulder
Develop Your Search Engine Optimization (SEO) Skills
Help grow visibility in organic (non-paid) search engine results
Use words on your page to get other sites to link to you on the web
Finding the terms and phrases (keywords) that generate traffic to your website
Web traffic is driven by the major commercial search engines, Google, Bing, and Yahoo!.
Search engines are unique in that they provide targeted traffic—people looking for what you offer
Search queries—the words that users type into the search box—carry extraordinary value. Experience has shown that search engine traffic can make (or break) an organization's success.
Can I do SEO for myself?
The world of SEO is complex, but most people can easily understand the basics. Even a small amount of knowledge can make a big difference.
How search engines operate.
"Do" Transactional Queries
"Know" Informational Queries
"Go" Navigation Queries
An important aspect of SEO is making your website easy for both users and search engine robots to understand.
On-Page Optimization
Title Tags Meta Tags Meta Description
Keyword Research How to Judge the Value of a Keyword
The Impact of Usability and User Experience
Crafting Content
Search Intent Flavors Transactional Searches Navigational Searches Informational Searches
Link Signals Five Samples of Link Building Strategies
Search Engine Tools
Misconceptions and myths about how the search engines operate.
Track data about rankings, referrals, links, and more to help analyze your SEO strategy
Requirements:
WordPress Hosting and a domain name cost about $15 i teach you how
Internet Connection
Description:
SEO - Become An SEO Expert With Yoast SEO Plugin Udemy
Join 60,000+  Successful Students And Learn The Fastest Way To SEO Success! 
Introducing My Simple Step-by-Step SEO System For WordPress!
The Step-by-Step SEO Plan to Take You From Zero SEO Knowledge to The 1st Page of Google in 60-90 Days!
Everyone want's to get to the first page of the search engines because it is going to bring them more profits because of the increased traffic, and more prospects.
Use my simple SEO blueprint to get on page one! No need to spend a fortune on consultants, or go insane with the complexity of SEO.
No techie knowledge required! Just download the free Plugin and click a few buttons and that is it the software does the rest on auto pilot!
My step-by-step process is for getting you on the first page fast!
Your first page rankings are maintained by the software so no need to panic about an algorithm change. 
Search Engine Optimize Your Own Business Or Start Your Own SEO Business.
Search Engine Optimization Business  - Avoid Hours Of SEO Work With Yoast Plugin Step-by-Step Tutorials
Cheat Sheets You Get - Just Follow Along and Fill Them In Easy!
SEO Sales Forms 

Just Fill In Client Proposals

SEO Plans

SEO Benefits

SEO Cheat Sheets
How to set up your permalinks to blaze past your competition.
- You are shown how to use H1, H2, and H3 tags? Its very easy! This quick trick will increase your chance of reaching the first page by 74%.
- Your first paragraph is important I show you how to structure it for best rankings.
-  I'll show you how to get all your images indexed by Google, Yahoo & Bing within 48 hours and how to optimize your images for the search engines super fast.
SEO For WordPress: Discover How to Easily Get Your Website on Page #1 of Google, Yahoo! & Bing Fast!
How to do:
Keyword Research SEO 

Create a Winning SEO Strategy 

SEO Audit 

SEO & Link Building
Free SEO tools and automation mean that after 2 hours you will be able to do  SEO and get great results for your own or your clients websites.
No skills needed just point and click the mouse to do SEO on-page and off -page for your website today! Ideal for local business owners, consultants and coaches, authors, and those who simply want to earn an income online. 
In this picture rich video course you will discover Easy Ways to Make Money with your new, easily and quickly learnt SEO skills.
Unlike other beginner SEO courses, we cover topics that are key to creating a professional Done - 4 - U SEO service for websites for others as a service business and charge $500 or more per project. 
Would you like to see how people just like you earn $500+ for simple WordPress SEO skills? Discover how to set-up everything you need to create awesome WordPress SEO optimized websites for yourself or your clients. 
This includes all the latest Search Engine Optimization tools and techniques for 2018 – this is not a last year's outdated course! This is not WordPress SEO theory - this is a look over my shoulder course to get top rankings for key words now.
You can follow along by turning on your computer, put the keyboard on your desk, and in seconds start doing Search Engine Optimization on WordPress websites today – no coding needed – no technical knowledge! 
Join the thousands of people who are making $1,000+ per month doing SEO on  WordPress websites that you can do from home in your spare time with no SEO software costs.
Student Reviews For My Courses:
"Great Course
This course certainly deserve appreciation. Easy to understand and complete with perfection, which lead me to understand this course within a short period of time. I thanks for such an amazing course and I enjoyed my learning experience."
by Jebul Rahman
"Very well structured and Detailed course
Wow...I am blown off with the little minute details this course is structured with. Nick is very prompt to mention that the use of this course knowledge can help you make money by taking action and not false promising that you'll make guaranteed money by showing well-mocked pay reports.
I really adore the minute details Nick has covered in the course. Especially the menus and the static page for the site and 7 page website.
I've to thank Nick, by following this course I could get my worpress blog online.
Thanks for the course and the great value you portray in the course."
by Ashok Kumar N Rao
Other Student Reviews Of My Courses:
AtiQul HoQue MiLon - 5 Stars
Borakhan88 - 5 Stars - very good how to do things on steemit i never new about before
Naz Yousan - 5 Stars - nice short lectures explains steemit well
Yacine Chettout - 5 Stars - vidéos très courtes (short videos that gives appety to see them all) Tha,ks a lot Sire Walsh :) you are amazing ;)
Dereje Deressa - 5 Stars 
Nesztorasz Zoikasz - 5 Stars
Ilyas Abdulkarim - 5 Stars
Faaz Ali - 5 Stars this course
Tom Urbanek - 5 Stars - Very well laid out, clear and concise.
Sylvia Dart - 5 Stars - The course was well done and delivered professionally. Nick covered alot of wordpress areas that beginners need to know. Can save you a lot of time searching for the information all over the internet. I learned a lot.
Enroll now and I'll see you on the course!
Nick Walsh
Who this course is for:
Anyone wanting to learn SEO to earn $500+ for SEO Projects
Small business owners who want their website found to generate leads and sales.
Anyone with zero or little knowledge of the amazing easy to use WordPress
Anyone wanting to get website visitors for themselves or clients.
Entrepeneurs, BusinessOwners, Consultants, Web Designers, Students
Course Details:
2 hours on-demand video
1 quiz
Assignments
25 articles
7 downloadable resources
Certificate of completion
SEO Your Own Business - Avoid Hours Of SEO Work With Yoast Plugin Step-by-Step Tutorials - SEO Sales Forms Too
Demo Link: https://www.udemy.com/course/the-60-minute-seo-cure-be-found-seo-quick-start/
Generating Download Link... 20