Guide to Stock Trading with Candlestick & Technical Analysis
Stock Market Technical Analysis, Candlestick Trading & Volume Patterns for Day Trading, Swing Trading, Stock Investing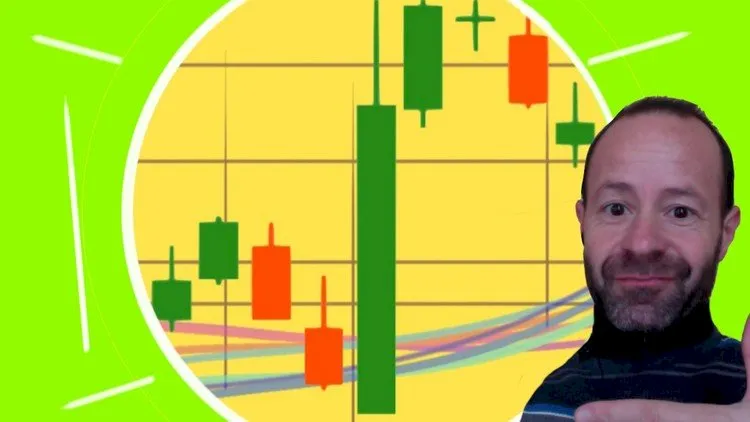 Guide to Stock Trading with Candlestick & Technical Analysis
Guide to Stock Trading with Candlestick & Technical Analysis udemy course
Stock Market Technical Analysis, Candlestick Trading & Volume Patterns for Day Trading, Swing Trading, Stock Investing
What you'll learn:
Master chart reading, Japanese candlesticks and technical patterns
Build a solid candlestick and technical analysis foundation for trading stocks, forex, options, etfs, cryptos
Learn to use multiple time frames for accurately and effectively time your entry and exit strategy
Learn to draw lines of support and resistance to locate entry and exit areas
Understand the effects that emotions have when trading, and how the can emotions can positively or negatively affect your trading plan
Understand the driving force of the market
Learn the basics of market strategies (bullish, bearish and sideways)
Identify and trade bullish candlestick patterns
Identify and trade bearish candlestick patterns
Manage trades correctly using support and resistance levels
Understand correct risk and reward ratio, position size, stop losses and targets
How to trade with Moving Averages
How to trade with Stochastics and RSI using overbought and oversold conditions
Requirements:
Everyone is welcome
Desire to learn
A computer or tablet to watch the videos
Pen and paper for taking notes
Nothing else is needed, everything you need to learn to how to trade in the stock market is included in the course
Description:
Guide to Stock Trading with Candlestick & Technical Analysis Udemy
Featured on Benzinga
Guide to Stock Trading course has been featured on Benzinga as No 1 in the Best Online Swing Trading Courses category.
----------------------------------------------------------------------------
Stock Lovers, Traders, Investors, Stock Market Aficionados!
[CC] English | Français | Español | Italiano
Master the basics of trading and investing in the stock market using candlestick trading, technical analysis, risk/money management, correct trading discipline, support/resistance trading levels and so much more!
Welcome to Guide to Stock Trading with Candlestick and Technical Analysis.
In this course you will learn how to
trade and invest in the stock market correctly and successfully

read chart patterns and start developing trading confidence

accurately time your trades entry and exit

accurately calculate price targets and stop losses

protect your investment when price moves against your predictions

control your emotions during and after the decision-making process of enter and exiting trades
This course will teach you technical trading skills to help you increase your trading success using a time-tested method known as Japanese candlesticks, combined with technical analysis, volume analysis as well as risk and money management.
The course is designed for beginners and intermediate levels, but not limited to them. Experienced and seasoned traders can also benefit from the information contained in this course.
The course is geared towards swing trading and position trading primarily, as well as investing.
Whether you are trading stocks, forex, cryptocurrencies, commodities, options, ETFs... this course will give you a glimpse of the competitive edge that Japanese candlesticks and technical analysis avails you!
----------------------------------------------------------------------------
We look at different trading charts and specific stocks to understand the advantage that the visual illustrations of candlestick charts has over more popular trading tools such as bar charts.
This course offers an overview on both the driving force of the market (supply and demand) as well as the effects of market psychology on stocks price action.
New lectures will be added to the course regularly - at no extra cost to you! This is a course that will continue to grow.
Take this course now and learn from over our 10 years+ of trading experience. Avoid the most common pitfalls that catch 90% of traders!
Too often beginner traders enter the market without the necessary knowledge and practice needed. As a result they take excessive, expensive and unnecessary risks hoping for higher returns. This course will teach you a very effective way to trade in the market successfully and with confidence.

This course is for all levels: beginners, intermediate and advanced traders! All you need is an open mind and a passion to be successful!
Enroll in this course now and start trading the market successfully!
----------------------------------------------------------------------------

All our SharperTrades courses come with:
Unlimited lifetime access at no extra costs

All future additional lectures, bonuses, etc in this course are always free

Our SharperTrades team is always available to answer any question you might have regarding this course. Answers are given in less than 24 hours!

Your trading success is our goal!
----------------------------------------------------------------------------

Over 100,000 students in 192 countries have already joined SharperTrades courses. Join a large community of successful traders.
Click "Take This Course" and Start Trading Successfully TODAY!
Who this course is for:
Anyone interested in investing
Anyone who wants to get into stock trading
Anyone who wants to get into forex trading
Anyone who wants to get into cryptocurrency trading
Anyone who wants to refresh their trading knowledge
Anyone who wants to understand how the financial markets work
Anyone who wants to learn how to read trading charts
Anyone who wants to learn how emotions influence price action
Course Details:
4.5 hours on-demand video

Certificate of completion
Stock Market Technical Analysis, Candlestick Trading & Volume Patterns for Day Trading, Swing Trading, Stock Investing
Demo Link: https://www.udemy.com/course/introduction-to-japanese-candlesticks/
Generating Download Link... 20