Learn 5 PLCs in a Day-AB, Siemens, Schneider, Omron & Delta
PLC Programming of Allen Bradley, Delta, Siemens, Omron & Schneider using LIVE Examples with HMI Interfacing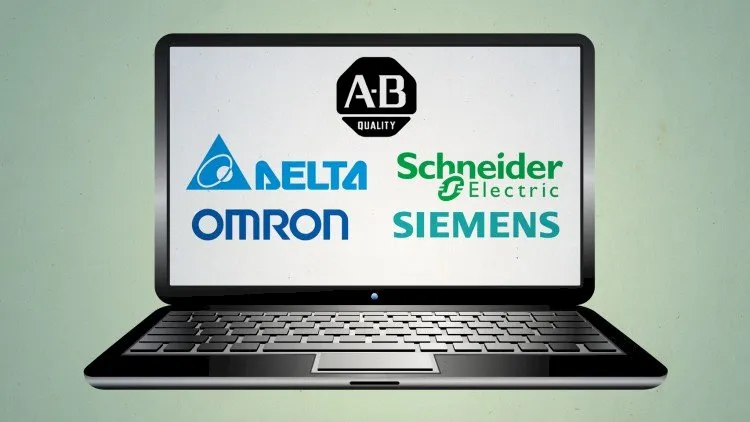 Learn 5 PLCs in a Day-AB, Siemens, Schneider, Omron & Delta
Learn 5 PLCs in a Day-AB, Siemens, Schneider, Omron & Delta udemy course
PLC Programming of Allen Bradley, Delta, Siemens, Omron & Schneider using LIVE Examples with HMI Interfacing
What you'll learn:
To Learn Ladder Logic Programming
PLC Wiring Concepts & Troubleshooting
To Teach Programming to Technician & Engineer
Requirements:
PLC Software (Included in the Course)
Description:
Learn 5 PLCs in a Day-AB, Siemens, Schneider, Omron & Delta Udemy
     Today, PLC is being used in every Process & Manufacturing Industries, besides knowing the Wiring & Connection, one must know how to program a PLC. Unless you know how the brain works, it's extremely difficult to troubleshoot a process. This course will explain how you can Wire, Design & Program a PLC.
Besides, you will find the usage of various software like ITS PLC, FACTORY I/O, Simumatik and dedicated hardware trainers to create a motivational learning platform. Also, you will find quizzes in various sections of the courses to evaluate yourself. Following is the brief information about the course:
Brief Outline: 
High-Quality Video Tutorials on PLC Wiring, Installation & Programming

PLC E-books, Test, Manuals, Circuit Diagrams, text tutorials Included

This course will help you to Program the PLC for your Project Work, Industrial Application, Home Automation, Factory Automation Projects, Simumatik, etc.

Ladder Logic Programming

Functional Block Diagram
Course Outline 
3000+ PLC Tutorials

Doubt Clearing Complimentary LIVE Sessions

Ladder Logic Programming

PLC Presentations, PLC Circuits, PLC Codes

FREE PLC Simulation Software for Practice
PLC – Programmable Logic Controller  
Delta DVP 14 SS, DVP 12SE,

Allen Bradley M1000, M1400

Allen Bradley Micro850 PLC

Siemens S7 200

Schneider

Omron CP1E
Analog Cards Programming 
04 AD - Analog to Digital

04DA- Digital to Analog

Allen Bradley IF2OF2

Siemens Inbuilt in S7-200 XP
We provide quality education in the field of industrial automation control systems that are being installed across industries. The course material is designed in a way that helps students in acquiring knowledge of these systems and uses revolutionary thinking to keep productivity and profitability high while reducing downtime of machines and troubleshooting the systems faster 
We offer E-Learning Industrial Automation Courses to facilitate students & engineers far across the world.
Who this course is for:
PLC Programmers
Engineers - Production & Maintenance
Technicians
Course Details:
36 downloadable resources

Certificate of completion
PLC Programming of Allen Bradley, Delta, Siemens, Omron & Schneider using LIVE Examples with HMI Interfacing
Demo Link: https://www.udemy.com/course/nfi-plc-online-leaning/
Generating Download Link... 20