NLP Master Practitioner Training (Advanced to Specialist)
A cutting-edge NLP Master Practitioner training to prepare you for extensive personal growth and professional excellence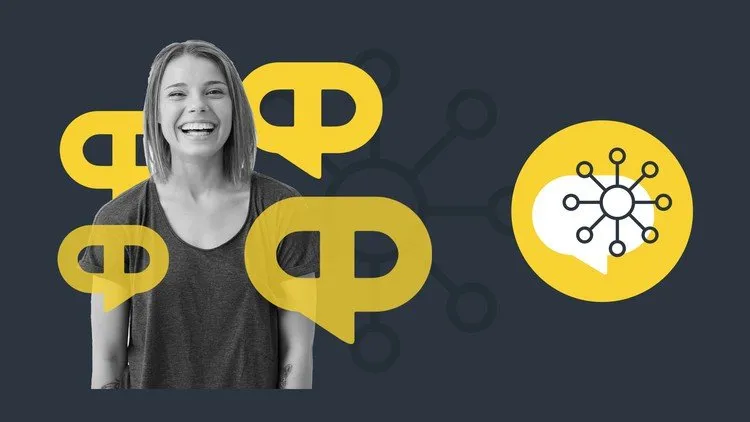 NLP Master Practitioner Training (Advanced to Specialist)
NLP Master Practitioner Training (Advanced to Specialist) udemy course
A cutting-edge NLP Master Practitioner training to prepare you for extensive personal growth and professional excellence
What you'll learn:
You will learn advanced NLP principles and processes that you can action with clients, in your private life, career & relationships right away.
You will learn advanced NLP models of change that can act as the catalyst for instigating significant transformation in your clients.
You will learn how to inspire change in people's limiting ideologies and empower them to live more harmonious and autonomous lives.
Further develop your primary senses, develop your intuition and increase your level of self-awareness and self-effectiveness.
Utilise powerful language patterns for influencing and modifying behaviours in all contexts, from business to education and coaching.
Competently facilitate breakthrough sessions with people, as a result, they experience major paradigm shifts in response to your practice.
Understand the essential applied psychological principles, tools and methodologies that underpin the masterful practice of NLP.
Understand the core motivations and common assumptions that underpin most patterns of unhelpful, habitual behaviour (productive and destructive forms).
How the mind processes day-to-day experiences and transforms our interpretation of them into memories, fears, frustrations, passions, actions and outcomes.
PLUS: Access our fantastic Facebook support group, 'Practice makes Permanent' to connect with fellow peers, celebrate successes, compare notes with others and much more.
On completion of the course, you can apply to join The Academy for Modern Applied Psychology for professional membership to put into practice your new-found skills.
Requirements:
Prior knowledge or practice of neuro-linguistic programming will be beneficial for students enrolling on this course. NLP master practitioner builds upon all modules taught in the NLP practitioner training.
Many self-reflective ideas are discussed throughout the course, and as such students are encouraged to take notes (this is for self-reflection purposes only and isn't for official submission).
You can complete this video-based course in your own time and pace (also comes accompanied with a full audio MP3 version). Is easily achievable to complete within 6 – 8 weeks.
The full NLP Master Practitioner course can be studied online with an internet connection. The curriculum is similar to that which you might find in a reputable attendance based NLP Master Practitioner course.
You can study NLP Master Practitioner from the comfort of your own home or favourite cafe at any time. You can access your course lessons from your smartphone, tablet or desktop computer.
This course was last updated on November 2018, drawing on over a decade of experience, blending in theoretical knowledge, wisdom based principles alongside other appropriate ideologies and frameworks.
A range of additional downloadable (and editable) course materials is also provided that will make this NLP Master Practitioner course enlightening, fascinating and enjoyable.
Note: Students who benefit most from this NLP Master Practitioner course are those who are ready to reflect upon and APPLY the lessons that are presented herein.
Description:
NLP Master Practitioner Training (Advanced to Specialist) Udemy
The Master Practitioner level training in Neuro-Linguistic Programming (NLP) combines the principles and practices of NLP for both personal and professional change, allowing students to acquire the latest applications and developments in NLP.
In the NLP master practitioner training, you will have the privilege of continuing to build on the knowledge you have acquired through your NLP practitioner training. In this course, you will develop the skills needed to increase your ability to make informed decisions, increase your autonomy, elevate your personal leadership and optimize your operational efficiency.
A key component of Neuro-Linguistic Programming master practitioner training is exploring the link between a person's behaviors, thoughts, emotions, and language, and the outcomes (or consequences) they produce. As a result of NLP's methodological framework, students are able to enhance their natural creativity and accelerate their development as individuals.
By learning how the mind naturally process daily experiences, students will develop an in-depth awareness of the way they communicate and relate to others. In addition to providing students with methodologies, and techniques, this training discusses how to overcome psychological blocks to attain high performance and lead a more fulfilling life.
In general, NLP is a study that is commonly taken up by individuals who wish to become more proficient in their chosen fields. There are many applications for it, including education, team building, personal development, and leadership. Neuro-Linguistic Programming can be incorporated in virtually any setting that encourages personal or professional advancement.
What Will I Learn In This Course?
Gain a greater sense of social awareness, and improve your social skills.

How to communicate in a way that bypasses superficiality and falsehood.

How values are formed, learn how to elicit, organise and reorder values.

A step-by-step guide to obtaining an individual's detailed personal history.

Deliver captivating presentations that captivate and inspire your audience.

Discover how to launch and maintain a successful NLP-based enterprise.

Establish a clear distinction between individual identity and personality.

Learn how to increase your resiliency and ability to accommodate change.
These skills are highly valuable and are immediately applicable in areas such as business, therapy, coaching, leadership, marketing, and healthcare. This on-demand NLP Master Practitioner training involves building upon what you learned in NLP Practitioner and advancing you into a whole new paradigm of thinking and application of the NLP methods.
This course is one of the most affordable and integrated NLP Master Practitioner programs available online. A balanced blend of instruction, demonstration, discussion, and modelling - a comprehensive solution for aspiring Neuro-Linguistic Programming practitioners interested in facilitating measurable results for themselves, their families, or those in their workplace.
NLP principles are presented using a principle-based instruction approach, allowing you to apply this knowledge in your own environment. Students will be exposed to behavioural change processes, breakthrough coaching, advanced language patterns, communication skills, and philosophical frameworks for character development.
We will provide you with bite-sized modules in this course that are easy to understand and apply. The flexibility to learn anywhere, anytime, on any device means you are in total control. The course is offered by the Academy of Modern Applied Psychology and includes all the essential subjects to ensure you gain a comprehensive understanding of NLP.
"This course showed me I've only scratched the surface of possibilities after spending years believing I was focused and evolving. Among my reasons for doing this course were motivation and desire to transform my career. I've now achieved both." - Jude Harrison
This training is part of a larger curriculum of professional development training resources, designed by Kain Ramsay Ltd, and hosted within the Achology community peer-learning environment. The training course is accompanied by a 30-day money back guarantee, so if you're not happy with the format, you can get your money back - no questions asked.
Who this course is for:
This course is for students who are dedicated to self-discovery and improvement.
The course can be taken standalone or in conjunction with another Achology training.
Students with an interest in psychology will find this course particularly interesting.
This course is best suited to students who are interested in improving themselves.
This course is suitable for men and women, regardless of age or ethnic background.
NLP practitioners, coaches, managers, entrepreneurs, psychologists, doctors and trainers (actual or aspiring).
Course Details:
45 hours on-demand video
3 articles
175 downloadable resources
Full lifetime access
Access on mobile and TV
Certificate of completion
A cutting-edge NLP Master Practitioner training to prepare you for extensive personal growth and professional excellence
Demo Link: https://www.udemy.com/course/neuro-linguistic-programming-nlp-master-practitioner-online-course/
Generating Download Link... 20